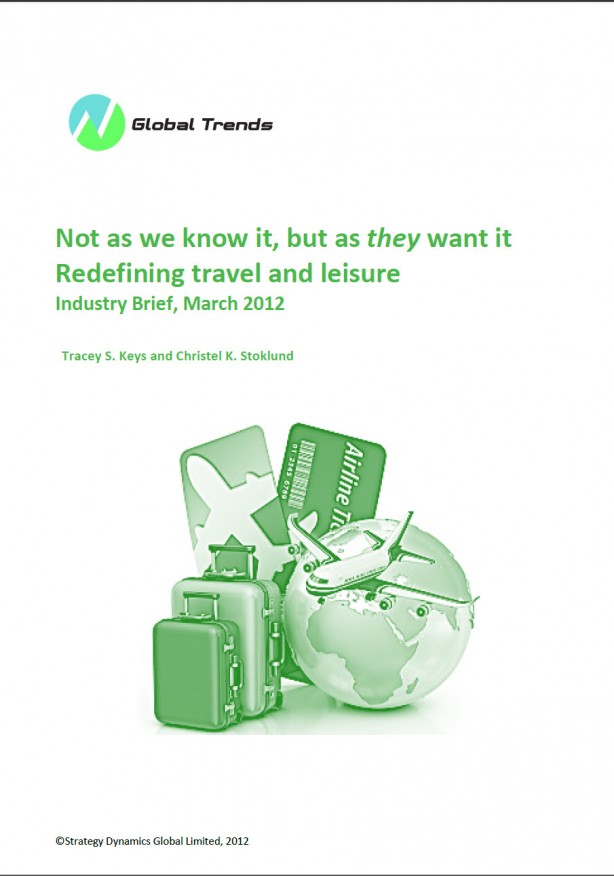 Not as we know it, but as they want it — Redefining travel and leisure, Industry Brief, March 2012
Impacted by broader global trends, the years ahead promise to provide further challenges within a rapidly changing landscape for the industry.  Sophisticated and well-informed consumers, a proliferation of choices, instant information and an unpredictable world economy mean reinvention is the name of the game.  No surprise then, that new players are entering, and, in some cases, upending, an already crowded market.
The travel and leisure industry is feeling the full impact of rapidly changing trends with increasingly demanding consumers requiring:  "unique, customized and hassle-free travel experiences that provide clear value-for-money." In this industry brief we examine how the travel and leisure landscape is shifting, along with insights into where value creation opportunities are at each stage of the travel cycle.

There will be no surprise that the growth of niche tourism is phenomenal.  Individualization means demand is shifting from mass-market tourism to unique and customized travel solutions that combine recreational desires with specific needs and wants.  Niche tourism targets personal beliefs, lifestyle or medical requirements and presents consumers with a highly personalized package.

In addition, the trend analysis shows increasing demand for:

Transparency:  Speak their language by showcasing a variety of products/service – facilitating decision making, booking and ensuring travel is easy and flexible in a complex and time constrained world.
Value for money: Price levels inconceivable years ago for new destinations and specialized products and services to compete with more established products.
Convenience: Access where and when required — adapting to new technology, e.g. booking behaviour, check-in and security procedures, integration of social media/networks, etc…
Trust: Time is precious to today's consumer. Under-promise and over-deliver based on fulfilment of a much-needed break.
Quality:  Deliver unique and different travel experiences that are unfailingly high quality.
Security:  The risk external, unanticipated events present to business are increasing.  Consumers must feel confident, requiring water-tight crisis management procedures.

Available for Premium Members, explore the industry brief and what it means for your organization.