Here's another quick preview from The Global Trends Report 2013, due out in just 2 days on November 14th. Look out for it soon.
Social needs, mobility, communities, societal impact and connectedness are at the heart of the business environment of the future. In this world the consumer can no longer be regarded solely as an individual, self-determining entity. They are connected, for better or worse, and that means the impact of the business-consumer relationship extends beyond the "target" of the relationship, i.e. the consumer, out to the extended networks and communities of which that individual is a part. This is a world where word of mouth and, increasingly, word of mouse dominate. There is nothing new about using our friends as source of best advice. What is relatively new is the way more and more people do it. We are moving away from "wisdom of crowds" to the "wisdom of friends." Trust is the currency of the connected world.
On the other side of the equation firms increasingly becoming part of open networks of value creation, collaborating as well as competing with others to deliver experiences and solutions for customers and consumers. The bottom line for business: We are moving from a world where relationships, communications and marketing were focused on forming strong one-to-one bonds, to a world where we need to manage many-to-many relationships – at the same time as we nurture the individual, personalized relationship.
The World of Social Business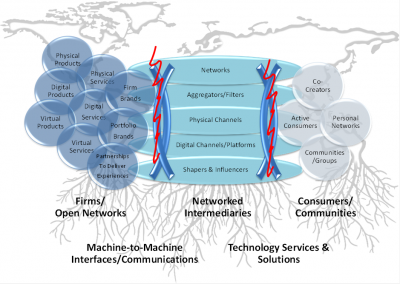 Also take a look at our September GT Briefing on Social Business.