March 2015: Discouraged by high levels of youth unemployment and sluggish economies globally, and looking for a way to make an impact in a job that has meaning for them, increasing numbers of young people are turning to the employer of choice: Myself. With new technologies and social and financial innovations redistributing production, consumption, and knowledge around the world, the barriers to entry for a new business in many industries has never been lower. Want to teach your expertise? There's a platform for that. Want to create a new product? The 3D printing factory is just around the corner. Want to run your company virtually? There have never been more technologies available to let you do so.
Governments around the world are encouraging this growth in entrepreneurship, reality media shows such as The Apprentice are showcasing possible future stars of the genre, and the topic is becoming well established in academic institutions. Today, unlike a couple of decades ago, "entrepreneur" is an increasingly aspirational career path. However, there is a caveat: While new businesses can create jobs and fill gaps in the market created by the economic squeeze on big corporations and public services, it's not just about measuring the numbers of new businesses. Many startups do not succeed, and many do not deliver on innovation, an activity which is ever more closely associated with the term "entrepreneur." A key test of whether the entrepreneurial economy is really driving innovation, productivity and economic growth over time is whether startups can scale up to spawn the next generations of larger, global companies and even billionaires.
In the future entrepreneurship will not though be restricted to new players – large companies are actively pursuing the capabilities and ways of working that make their smaller brethren faster, more flexible, and more innovative.
In this briefing we look at the changing world of entrepreneurship in terms of business models, funding and access to resources, how we are educating the next generation of entrepreneurs – and how big business is trying to get in on the act.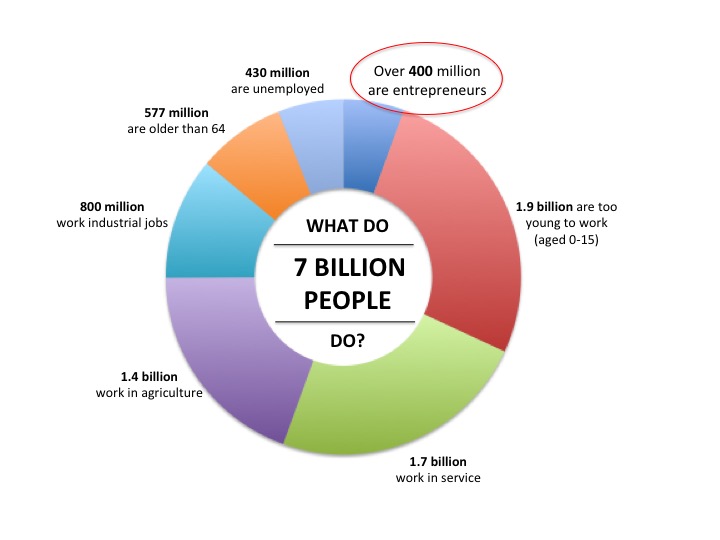 (Source: http://fundersandfounders.com/what-7-billion-world-population-does/)
Also see our slideshow presentation of Upstarts: Driving the entrepreneurial economy
The changing world of entrepreneurship
In the past, many people started their own businesses because there were no other opportunities available to them. Mom & Pop entrepreneurship was thriving. However, in today's world the notion of being an entrepreneur is changing, especially amongst younger generations, where becoming an entrepreneur is as aspirational as it is a necessity.
Beyond the shifting mindset, a number of trends are coming together to make realizing the entrepreneurial dream easier, faster and cheaper. These include technology advances that allow entrepreneurs not just to start fast and often virtually, but to develop innovative business models. The number of funding platforms and hubs for entrepreneurial activity has also exploded, allowing budding entrepreneurs to access capital, resources and knowledge, as well as to test their ideas with experts and peers.
Building new business models
New businesses can be a huge driver for innovation and change around the world. Let's have a look at some of the new business models that are redefining the entrepreneurial world.
The venture builders – sharing ideas and resources
The venture building business model – also called tech studios, startup factories or venture production studios – is expanding in the tech and startup world. It is built on the premise of pulling together a number of business ideas from across a network of resources, assigning internal teams to develop them and sharing resources. They develop many ideas at the same time, then build separate companies around the most promising ones. Some of the most notable venture builders include: Obvious Corp (spun off Twitter and Medium); Betaworks, whose portfolio includes Instapaper and Blend; and from The Netherlands, StarterSquad, the self-proclaimed "European version of Betaworks." (Source:Venturebeat)
Social entrepreneurship transforming lives
Traditionally, social entrepreneurship has been viewed as being purely about altruism while in reality it is also about capitalism. For the new generation of social entrepreneurs the traditional distinctions between non-profit and for-profit are breaking down. They have realized the two sectors can learn and benefit from each other through partnerships as well as investor relationships. And the idea of being able to do social good and run a profitable business at the same time is increasingly socially acceptable – and demonstrable. One example is Two Degrees where, for every nutrition bar it sells, the company donates a package of vitamin- and nutrient-enriched peanut butter to a malnourished child in Malawi. Another example is VisionSpring that has successfully sold more than 2 million affordable eyeglasses to poor people in developing countries.
The sharing business
A new and increasingly popular business model is sharing. Today, thousands of new entrepreneurs are renting or selling access to products and services, rather than selling them outright – building businesses that allow individuals to benefit from an exploding number of choices to meet their needs. Among some of the leading sharing economy platforms you will find: Airbnb (accommodation), Lyft (ridesharing), Park at my house (people renting out parking spaces), TaskRabbit (outsourcing of errands and tasks), DogVacay (board your dog in a real home), EatWith (authentic dining experiences in which people pay to dine in private homes), Rent the Runway (rents high-end designer apparel and accessories), Uber (connects passengers with drivers of vehicles for hire), and Chegg (specializes in online textbook rentals in both physical and digital formats, homework help, and scholarships through Zinch).
Accessing new sources of funds – more easily
While the majority of startups are funded mainly through personal savings and credit, and friends and family, new sources of funding are making the quest to start up a new business or project easier and quicker.
Crowdfunding and peer-to-peer lending
Crowdfunding and peer-to-peer lending is the fastest growing funding industry, and on track to go mainstream in the near future. Today, announcing a crowdfunding campaign or using peer-to-peer lending is just as common as traditional methods such as bank loans, venture funding and borrowing money. In fact, it can be much easier! Examples of platforms focusing on helping entrepreneurs, innovators and business owners are: Peerbackers, Funding Circle and MicroVentures.(Source: Entrepreneur)
Venture capital/Private equity
Venture capital and private equity are not new funding sources. However, the success of the sharing business model has expanded the focus of companies in the sector, e.g. the venture capital firm Collaborative Fund, is now dedicated to investing in sharing-based startups. Another example is CircleUp, a niche private equity website focusing on high-growth consumer products and retail companies. It has partnered with Procter & Gamble and General Mills to offer more value beyond funding, giving entrepreneurs access to these brands. (Sources: The Global Trends Fieldbook: From Data to Insights to Action, Entrepreneur)
Tapping into entrepreneurial hubs to get started
All over the world entrepreneurs have watched successful startups such as PayPal, Skype and Facebook succeed – but where do these aspiring entrepreneurs go to realize their big business dreams? Google for Entrepreneurs is one place. Since 2011, it has brought together startup communities and created spaces for entrepreneurs to learn and work in 125 countries. In Nairobi, Kenyan startup accelerator NaiLab supports several startups on-site and more virtually. In Charlotte, U.S., Packard Place is a hotspot for entrepreneurship built for entrepreneurs by entrepreneurs. It provides co-share space for startups and high growth companies. In Toronto, Canadian accelerator Communitech, also founded by entrepreneurs, has helped more than 1,000 firms, while generating more than $30 billion in revenue.
Check out this link for the 16 biggest startup trends for 2015
Educating the next generation of entrepreneurs
The potential for entrepreneurs to contribute to social and economic development globally is huge – building our future and growing economies by launching the next generation of innovative companies. However, the entrepreneurial marketplace is highly competitive and the success rate for the hopeful varies. Many young entrepreneurs have little or no experience and in the HBR blog "Entrepreneurs Get Better with Age," it is noted that: "Twice as many successful entrepreneurs are over 50 as under 25. The vast majority – 75% – have more than six years of industry experience, and half more have more than 10 years when they create their start up." For the next generation of motivated and eager young entrepreneurs, education is a necessity for success. The idea of teaching entrepreneurship is far from new, but has only really come of age in the past decade or so.
Trends in action:
Making it academic: In the U.S. entrepreneurial courses have exploded in the past decade. According to a report from the Kaufmann Foundation, college campuses offered approximately 250 courses in entrepreneurship in 1985. By 2008 that number had risen to more than 5,000 entrepreneurship courses being offered in two-year and four-year institutions – and many of these institutions recognize that courses need to be supported by a broader entrepreneurial ecosystem, building partnerships and resources to aid budding business learners. Today more than 400,000 students a year takes courses in the subject, and almost 9,000 faculty members are teaching it. However, it is not only in the U.S. that teaching entrepreneurship is popular and on the rise. It is happening all over the world. One example is the National University of Singapore that aims to become Asia's university hub for entrepreneurship. The university intends to increase the number of student entrepreneurs – including those taking entrepreneurship modules or participating in similar activities – from the current 1,000 to 2,500 students. Add to that it also has plans to increase its incubator capacity. (Source: Asiaone news)
A helping hand from big brother…: The role of education is changing in society. No longer is it expected that education is the sole responsibility of educational institutions. In a world of constant change, large and well-established companies also have a strong interest in nurturing a culture of innovation and entrepreneurship in the business environment, as they will need to access these capabilities – and perhaps the new ideas too – to thrive in the future. Around the world large corporations are therefore investing heavily in entrepreneurship education. One example is Cisco's Entrepreneur Institute which works with institutions and governments globally to foster growth and innovation in information and communications technologies. Another is Intel that, since 2005, has invested in a number of initiatives aimed at inspiring and providing education and critical skills for young entrepreneurs, e.g. Ideation workshops, Entrepreneurship Basics (self-paced e-learning course), and the Intel Global Challenge at UC Berkeley. Launched in 2008 Goldman Sachs'10,000 Small Businesses is designed to help entrepreneurs by providing them with greater access to education, financial capital, and business support services.
…and from the public sector: Governments around the world have also understood the importance of education to foster successful entrepreneurship. In Ireland the government-funded development agency Enterprise Ireland is helping to create new businesses and jobs, as well as to develop the potential of existing businesses through innovative programs. To help foster local innovation the non-profit incubator Startup Lisbon was established in 2011 by the Portuguese government to provide both infrastructure and services to entrepreneurial efforts.
Look out for:
Transforming the educational system: In 2010, the Youth Pulse study by the Kauffman Foundation revealed that40% of 8-24 year olds in the U.S. want to start a business someday, or have already done so. These findings underpin the need for entrepreneurship education at all stages of the educational system. In Europe, they promote a strategy to establish entrepreneurial education throughout the educational system, with a natural progression from pre-school education to business. In 2013, 143,855 teachers and 154,091 business volunteers worked with the organization JA-YE Europe to reach 565,672 primary students, 706,950 middle grades and 1,976,221 secondary and graduate students.
Building networks and ecosystems: The lone entrepreneur is increasingly a myth. Innovation labs, incubators, makerspaces, accelerators and hackathons are becoming increasingly popular catalysts for sparking ideas and start to build the network of support needed to launch a business or idea. Another, relatively new way is Startup Festivals: An International Startup Festival has taken place in Montreal, Canada since 2011 with more than 2,000 founders, investors, and analysts from more than a dozen countries. In India, the Construkt Startup Festival has more than 3000+ attendee and 150+ speakers and curated makerspaces. These festivals offer a unique chance to network, learn, share, create and celebrate the spirit of entrepreneurship. Or why not launch a "Startup in 54 hours:" Startup Weekend is another example of ways to build networks, tapping into knowledge and resources to move from idea to prototype. Here entrepreneurs can learn the basics of founding a startup, pitching ideas, forming teams, and starting companies. All startup weekends follow the same basic model, with events in more than 100 countries and 600 cities around the world.
Entrepreneurship in the world of big business
As we said earlier, in the future entrepreneurship will not be restricted to new players – large companies are also actively pursuing the capabilities and ways of working that make their smaller brethren faster, more flexible, and more innovative. In some cases, they are pursuing internal initiatives such as incubators and venture funding. In others, they are seeking to partner with more nimble startups to take advantage of the strengths of both parties: The speed and innovation of entrepreneurial ventures and the resources, knowledge and reach of the bigger partners.
Trends in action:
Collaborating for profit: Reflecting an era of collaboration and entrepreneurship, Coca-Cola launched a new model for Creating Startups in 2013. It partners with experienced entrepreneurs globally, giving them access to Coca-Cola's resources, relationships, and reach before they develop their next startup. It's a win-win for both parties as Coca-Cola gets early access to new markets with proven growth opportunities while the entrepreneurs gain access to knowledge and relationships that few can dream about. On a smaller scale, other large firms are also helping aspiring entrepreneurs, e.g. 13-year old entrepreneur Shubham Banerjee has received funding from Intel to develop a low-cost Braille printer. In the lobby of the Chicago Marriott O'Hare, a healthy vending machine has been installed in cooperation with the local startup Farmer Fridge. (Sources: Coca-Cola Founders, Yahoo, PSFK)
Tapping into entrepreneurial ideas and resources: New models of early-stage collaboration are increasingly popular in the pharmaceutical industry as traditional, large scale, long horizon R&D models become less effective and more costly. One example is the Sanofi Sunrise Initiative that has enlisted the capabilities and resources of venture capitalists and entrepreneurs to systematize the innovation process at Sanofi. The pharmaceutical industry is not alone. American retailer Target is acknowledging that innovation can come from anywhere, not just in-house. The Target Accelerator Program at Target India incubates tech startups for six months on their own campus in Bangalore. Working alongside the Target development team, these startups are innovating the future of shopping experiences. Other examples are the consumer brands Campbell's Soup and PepsiCo that are embracing developer entrepreneurs with programs like "Hack the Kitchen" and the PepsiCo10 incubator. (Sources: Forbes, Venturebeat)
Look out for:
Networking with entrepreneurs: For decades large companies have outsourced their "intrapreneurial" efforts. They pay huge amounts of money for consultancy companies to, e.g. conduct market analyses, identify new opportunities and generate ideas. However, UK-based innovation consultancy OneLeap came up with a great idea: Why not let companies learn directly from a network of entrepreneurs, as big companies are often constrained in innovative thinking? OneLeap doesn't employ entrepreneurs but has a network of entrepreneurs to choose from. A team of entrepreneurs then works with the client company's team to develop, e.g. a prototype, staying until it is done. One of the entrepreneurs, Sun, describes it as: "a workshop… turned into a hackathon. By having these internal hackathons, it is like replicating a Facebook culture, where basically Timeline was developed in 24 hours as people just went about it." (Source: HBR)
Replacing the traditional worker: The nature of work is changing; so too is the labor pool. New generations equals new expectations, and don't forget to add to that the influence of globalization, social change and growing employee diversity. Against this backdrop, companies are increasingly replacing the traditional employee with a more flexible type – the self-employed worker. In "Workforce 2020 – The Looming Talent Crisis," Oxford Economics reveals that 41% of the companies surveyed are using a growing number of contingent employees (independent contractors, part-timers, temporary, leased employees), 35% are increasing their use of intermittent or seasonal employees, and 34% are increasing their use of consultant employees. Expect continued growth in flexible alternatives to the traditional employer/employee relationship.
In April: Look out for trends in action on The Future of Money