November 2014: Technology is moving off the desktop and on to the body. While technology already plays an essential role in our daily lives, new wearable technologies have the ability to take the relationship between people and technology even further. These emerging technologies could allow people to interact better with technology and, at the same time, enable more meaningful experiences by extending the reach of interpersonal and machine-to-person communication. The advantages of this new generation of wearables are many, e.g. they are hands-free, always-on, environmentally-aware, constantly connected, and attention-getting, there are also many drawbacks such as the constant urge to check the information the devices are providing. Even more important are the significant concerns regarding data privacy as well as moral, social and ethical issues.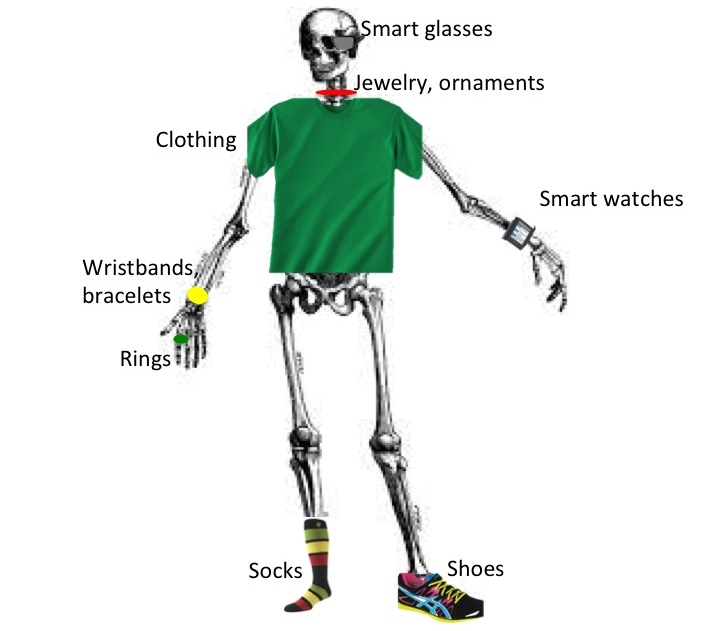 Widely proclaimed as "the next new thing," in reality, the wearable concept is nothing new.For centuries, human beings have adorned their bodies with gadgets, whether for utility or show or both. While it has existed for decades, the concept of "wearables" did not really take off before 2011 when Google developed its first prototype of what is now known as Google Glass.
Today, the next generation of wearable technologies encompasses a wide range of devices and products, e.g. wristbands, rings, glasses and watches, and chances are that in the not too distant future you will be able to buy, for instance, clothing and footwear that tells you the weather or sends you a message to remind you to work out. Wearables have the ability to give us far more control over our lives and in particular our health – but we need to be aware of the challenges.
NEW: Also see our slideshow presentation of Wearables: Fab, fashion or functional?
The rise or fall of wearable technology
Wearables are creating a buzz; they are on everybody's lips from analysts to journalists, fashionistas, product evangelists and other people fascinated by this emerging technology. Despite the fact that many people clearly seem excited by the technology, wearables are getting mixed reviews and predictions. Some are very bullish while others think wearables have a short shelf-life. Wearable technology is, however, part of the larger wave of the 'internet of things', with a potential economic impact of up to US$6.2 trillion annually by 2025, according to McKinsey. (Source: Business Day)
Let's take a look at just a few of the many estimates and predictions about the wearable industry:
Despite the mixed forecasts for the wearable market, the technology does look like a big trend right now. However the jury is still out to whether it will be a passing fad or a mega hit.
Are wearables as fabulous as they sound or is it just a fad?
Wearables are, in so many ways, an appealing concept. Wearing a device on your body that can be constantly connected to provide immediate access to whatever information you need anytime, anywhere sounds attractive to many people but it has a potential downside.Moral, social and ethical questions need to be considered before such devices become common household items. The issue: Wearables have the potential to perpetuate (via images), track and register every little movement and health condition of the human body, in private as well as in public spaces. With the amount of data wearables can potentially gather, e.g. personal, behavioral and medical content, it will be even more important to address the issue of data security and privacy in the future.
If the thought of wearables sounds so cool, then why are we waiting for the technology to really take off? One reason could be that the technology still needs to integrate with fashion and design. The companies manufacturing these gadgets have a challenge in making them look attractive, as well as delivering all the cool functionality that consumers crave. For wearables to be found in every home requires consumer-friendly designs that are fashionable, portable, convenient, and safe.
Data privacy and protection: When mobile technology suddenly took off the risk of data security and the assault on privacy of constant data-sharing and interaction was overlooked, leading to many concerns and legal battles. For wearables to catch on, it is critical that the potential risk of constant data-sharing is addressed and regulated. In August 2014, for instance, a U.S. Senator issued a press release calling on the Federal Trade Commission ("FTC") to push fitness device and app companies to provide users with a clear opportunity to "opt-out" before any personal health data is provided to third parties. His concern: Sensitive and private health information – may potentially be sold to third parties, such as employers, insurance providers, and other companies, without the users' knowledge or consent (Source: Global Regulatory Enforcementl Law Blog)
What's the fashion industry doing with wearables? The biggest topic in wearables over the past year has been the need for technology to intersect with fashion. Essentially there is a need to put the "wear" into wearables, as often the technology is not attractive to the fashionable crowd. Today, an increasing number of tech companies and fashion designers/brands are collaborating to make wearables attractive to consumers who want fashionable accessories, shoes, and clothing. For example:
Could this be the start of a whole new era of fashionable smart clothing and accessories?
From fashion to functionalilty
While most of the wearable hype remains centered on Google Glass, Apple Watch and a selection of fitness trackers, the reality is that wearables are much more than that. Activity in the space ranges from consumers and startups, to established tech companies and venture capitalists, to retailers, fashion designers, and consumer-goods players. New technologies, such as wireless charging, bendable displays, more robust sensors, and big data-style alerts will drive the market far beyond what we see today and make a significant contribution to the quality of our lives. (Source: Entrepreneur).
Yet, how can wearable technology cross over from being a fashion accessory for gadget lovers to become a functioning part of people's everyday lives? Are wearables even practical? Are they functional enough to make an impact and create value for customers, consumers, and companies? Let's have a look at some of the industries where wearables are starting to make their mark.
Wearables as a crime-fighting tool:
Financial services made easy:
Retail – The connected store:
Transforming workplaces:
Healthcare – improving lives through wearables:
What's next? Are wearables a step towards technological singularity?
Intelligent wearables and ubiquitous computing could be the first step towards technological singularity. In his book, The Singularity Is Near: When Humans Transcend Biology, Ray Kurzweil defines the term technological singularity as: "… a future period during which the pace of technological change will be so rapid, its impact so deep, that human life will be irreversibly transformed. Although neither utopian nor dystopian, this epoch will transform the concepts that we rely on to give meaning to our lives, from our business models to the cycle of human life, including death itself."
Some people believe that wearables are just a step towards something better and bigger. For now wearables are something that can be put on or taken off. In the future implantable, microscopic sensor technology will be integrated into the human body. Such invisible technologies that could potentially turn our bodies into computers are already starting to be used. Ultimately, these technological advances may allow us to enhance human capacities and intelligence to deal with radical change and complexity, through new human-machine interfaces, which will dramatically impact how we live and work in future.
Trends happening right now leading us towards the singularity
Biohacking: Around the world people are inserting magnets and microchips into their bodies to gain an extra layer of experience in the world around us and explore the possibilities of being part human, part machine. The Biohacking or Grinder movement is a group of "underground" transhumanists that design and install do-it-yourself body-enhancements such as magnetic implants as well as do-it-yourself biologists who conduct at-home gene sequencing. Check out the video Biohackers: A journey into cyborg America to gain more insight into the world of DIY biohacking. (Source: Wearable World)
Microchips: Recently the American broadcast company NBC estimated that by 2017 all Americans will have an RFID chip implanted under their skin to help identify individuals immediately. A microchip implant is much like the one pet owners use to track their pet. Although experts are divided on the issue, the implant could be beneficial in some situations, e.g. for soldiers and journalists in war zones where an implant could be the difference between life and death. Another example is that an implant tracker could help law enforcement quickly locate a kidnapped child. Perhaps it will also be possible to pay for things with the swipe of our RFID implanted wrists one day? (Sources: Wearable World, Fox News) The big question: Do we want Big Brother to constantly watching us?
Cyborgs: A cyborg is a human being with both organic and biomechatronic parts. The innovation that's happening in prosthetics alone means we are already mixing in a society with many cyborgs. One example of cyborgs is the artist Neil Harbisson who was born with achromatopsia, or extreme colorblindness that meant he could only see in black-and-white. He is now capable of experiencing colors beyond the scope of normal human perception after having a specialized electronic eye, or eyeborg, which renders perceived colors as sounds on the musical scale implanted. Another example is the 29-year-old Sarah Churman who was born deaf but is now able to hear because of an implant. (Source: Wearable World)
Check out this link for 9 real wearable technologies that will soon be inside you.
In December: Look out for 10 Key Trends to Watch for 2015