May 2013: Securing adequate natural resources to meet demand is a pressing economic as well as an environmental challenge for governments, organizations and consumers worldwide. Competition is increasing and shortages of critical resources have the potential to cause social and political instability, geopolitical conflicts and irreparable environmental damage. Emerging powers such as China and India are hungry for resources in order to fulfill the needs of their growing and increasingly prosperous populations, while developed economies are also feeling the heat of the rising competition for the world's limited resources. While most people agree that resources are limited, nations, organization and individuals are choosing to respond in different ways – for some rethinking the use of resources and innovating is the way to move forward. Others, however, are seeking to control and even fight for access to resources. For yet others, cooperation is the key.
How competition to secure resources, both today and in future, will evolve is complex and it is not yet clear which strategies will prevail. What is clear is that the quest to secure resources has already begun for many government and organizations around the world, who are seeking to control their own economic and social destinies, and to reduce dependence on other entities. As this competition plays out, the risks of possible resource-based conflict and misunderstandings between countries, organizations and people are rising worldwide.
What is your organization doing to tackle the challenge of securing resources for the future – and to manage the risks? In this briefing we explore the changing energy landscape as an example of the shifting resource environment, and examine how some of the strategies to manage resources, both today and in the future, are starting to play out.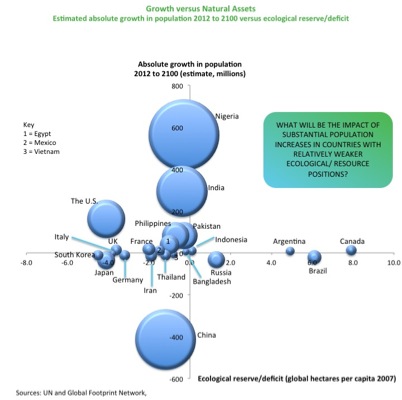 Looking at the Future Energy Landscape
In previous briefings we have discussed rising pressures on key resources, most notably food, water and energy. Here let's illustrate some of the resources issues the world faces by focusing on just one, energy, where the landscape of consumption, production and distribution is shifting significantly, both geographically and technologically. As a rapidly rising global population and growing prosperity are putting unsustainable pressures on resources the demand for water, food and energy is expected to rise, if not explode, in the future. The goal of resource independence is challenging many governments, organizations and people worldwide, leading both to innovation to create substitutes or using resources more productively, as well as possible shifts in economic and geopolitical power. New technologies and geographic shifts, in particular, in the energy landscape will likely change its dynamics dramatically in just 10 or 20 years.
In Action!
US versus China – racing for energy independence: Fuelled by a boom in new technologies to unlock previously inaccessible energy deposits such as shale gas, the U.S. is poised to be energy self-sufficient by 2030 and the world's biggest oil producer in just five years, which will radically change the politics and dynamics of the global energy landscape. While this may be reassuring for the American people, renewable energy initiatives could suffer as fossil fuels increase their dominance – with negative results for climate change and pollution. On the other side of the world China is also racing to secure its own independent energy future, but through building renewable energy industries. The problem for the U.S. in getting the renewable industry going, despite public support, seems to be a plethora of regulatory and institutional blockages. One example is Google's investment in the Atlantic Wind Connection, an ambitious project to establish wind farms off the Northeast coast and link them to the mainland grid by a single connection. Launched with much fanfare in 2007, it was abandoned in 2011 as one regulatory barrier after another stalled the project. (Source: The Globalist)
Rethinking the refinery landscape: Many of the world's large future oil and gas producers are rapidly developing economies, e.g. Nigeria, Angola, Indonesia, Vietnam. As domestic and industrial energy consumption grows these countries need to increase energy production and supply. However, many are being hampered by the lack of infrastructure to refine their own oil/gas, incurring significant costs by having to export products for refining and reimporting refined products afterwards. In Nigeria, this costly cycle may be broken by new investment. Africa's richest man, Aliko Dangote, plans to double Nigeria's oil refining capacity by building a refinery with the capacity to process 450,000 barrels per day. However, he acknowledges that his plan may well be opposed as it will hurt organizations in the fuel import business. Another example is Vietnam where the government has allowed a non-disclosed owner to build a refinery in order to reduce its reliance on imported crude products. (Sources: BBC, WSJ). Look out for more RDEs wanting to reduce their reliance on energy imports.
Silicon Valley driving electric vehicle advances – not Detroit: Expectations used to be that all great automotive innovations would come from the automotive industry. Not any more: in recent years innovation has taken a detour from Detroit to Silicon Valley. First we saw Google's driverless car. Now Tesla, founded by PayPal and SpaceX founder Elon Musk, has built an electric car where the battery is located on the floor of the vehicle, meaning it handles and brakes better and has two trunks. It also makes the car faster and easier to service. Now it is still a rich man's toy, but Tesla eventually plans to launch "third-generation electric cars" with a lower price tag and designed for mass appeal. Look out for more Silicon Valley-driven automotive innovation as this new breed of car makers hopes to replace today's dirty and dangerous automotive technology with cleaner and safer automobiles. For Detroit to stay ahead, it will need to tap into trends outside its own industry. (Source: The National)
Look Out For…
Storing renewable energy cheaper: The problem with matching the supply of wind and solar power with demand – notably, storage – at a competitive price might just have found a solution. Curtis Berlinguette and Simon Trudel from the University of Calgary have invented an environmentally friendly, highly customizable way to make a key component in a process that stores electricity by turning water into hydrogen fuel, at a price they say is roughly 1,000 times cheaper than current methods for making that specific component. Currently, they are trying to commercialize it through their own company Firewater Fuel Corp. (Source: CBCnews)
Lighting the world with LED: Close to one fifth of global energy consumption is due to lighting. LED technology has for many years offered a much more energy efficient alternative to incandescent bulbs. The downside has been that LEDs are more expensive than the traditional bulbs, even though they use up to 90% less energy and last much longer, so have lower lifetime costs. Now, according to the BBC, lighting company Philips has developed an even more energy efficient prototype tube lighting LED lamp. The company claims that it is twice as efficient as those currently used in offices and industries but gives the same amount of light. Ultimately it could replace lighting in private homes but for now the plan is to bring it to market in 2015 to replace office lighting.
How small can they get? Making small batteries more energy efficient has been a challenge for researchers for decades. A team from the University of Illinois has now made a breakthrough. By using 3D-electrodes the team has been able to build micro-batteries that are much smaller or the same size as current commercially available batteries, but many times more powerful. In addition, they can be recharged 1000 times faster than existing competing technologies. The new technology could help address battery issues in smartphones, medical devices, lasers, sensors and other applications requiring very small batteries. Among other research institutions working on the energy challenge, researchers in Texas are working on a battery that can be spray-painted onto a surface and the University of Bedfordshire is playing with the idea of using radio waves as an energy sources. (Source: University of Illinois press release and BBC)
Rethinking resource use and innovating to substitute for scarce resources
Resource pressures are real and growing. So how are companies, governments, research institutions consumers, and other stakeholders responding? In the quest to free themselves from others who control access to important resources, governments and business are not just trying to reduce usage – and therefore dependence – but they are also trying to reinvent how resources are used and what they may be replaced with. Reducing usage, e.g. electricity consumption through the use of smart meters, is one approach. Organizations at the leading edge are also questioning both how they use resources, e.g. radically redesigning products to use less or different materials, and what resources they use. In the latter case this often means harnessing new ideas and technologies to substitute for scarce and expensive resources, e.g. oil or rare earths. Technology advances will be critical enablers for these strategies. Below are just a few examples of what is being done to reduce dependence on important natural resources.
In Action!
The quest for zero waste: The philosophy of zero waste is to redesign the whole life cycle of resource use, including product design, use and disposal, so that all elements of a product can
be reused, eliminating waste. Automotive companies have been leading the charge. Subaru, Toyota and General Motors have already made a number of their plants landfill-free, and plan to make more so. Subaru has comprehensive strategies for every step from production to waste vehicle collection, ranging from using materials that are easy to recycle, easier identification of materials, and increased use of recycled materials in vehicles. In 2007 it recorded a 73% recycling ratio rate for end-of-life vehicles. It has also developed partial zero emissions vehicles to dramatically reduce emissions from petrol-fuelled vehicles. (The Global Trends Report 2013)
Replacing rare metals: Indium, a rare metal, used in the production of displays for products such as televisions, telephones and laptops as well as solar cells, is expected to be exhausted within as little as ten years. Researchers at Eindhoven University of Technology (TU/e, Netherlands) have developed a replacement material that is a transparent, conducting film produced in water, and is based on electrically conducting carbon nanotubes and plastic nanoparticles. Made of commonly available materials, the new material is also environmentally-friendly. (Source: Nanowerk)
Edible utensils: Not at trashcan in sight. In earlier briefings we highlighted edible wrappings and films that are soluble, biodegradable and can even be flavored. The latest addition is an edible and even healthy spoon from Triangle Tree. It is made mainly of corn and a mix of organic ingredients including baking powder, whole wheat flour, eggs, salt, sugar, separated milk, and herbs and spices and comes in three flavors: plain, sweet, and spicy. It is designed not to break into random granules and make consumption difficult. (Source: PSFK). Edible utensils are one more step towards a future without rubbish cans and landfill.
Look Out For…
Jet fuel from seawater – The new alternative to fossil fuel? In an effort to free itself from the use of fossil fuel the U.S. Naval Research Laboratory has developed a technology to extract carbon dioxide and hydrogen gas from seawater then uses catalysts to convert them into a class of jet fuel called J-5 that meets Navy safety specifications. It will be ready for testing at sea in 8 to 10 years and price levels are indicated to be US$3 to 6 per gallon. In 2011 close to 600 million gallons of fuel were transferred to Naval vessels at sea from oil tankers. (Source: NBCNEWS)
Hydrogen from a grain of salt? Bruce E. Logan, Kappe Professor of Environmental Engineering at Penn State is using microbial electrolysis cells to produce hydrogen from wastewater or organic byproducts, and all that is needed is a grain or two of salt. The key to these microbial electrolysis cells is reverse electrodialysis or RED that extracts energy from the ionic differences between salt water and fresh water. According to the Professor; "This system could produce hydrogen any place there is wastewater near sea water," and "It uses no grid electricity and is completely carbon neutral. It is an inexhaustible source of energy." (Source: Science Daily)
Increasing yields using biotechnology: Developments in biotechnology could increase yields without big investments in farm equipment, fertilizer and irrigation. One interesting project is The C4 Rice Project that aims to create a form of rice which uses C4 photosynthesis. It offers the potential to grow more rice with less water and fertilizer. A similar project aims to achieve the same with wheat. Another promising project is taking the ability of legumes (peas and soy, for example) to fertilize themselves by extracting nitrogen from the air, and attempting to engineer that capability into cereal crops such as corn, wheat, and rice. (Source: Forbes)
Competing to secure resource access
As the reality of resource imbalances starts to bite nations, organizations and individuals are adapting their competitive behaviors. They are responding to the challenges with a range of short-term tactics and long-term strategies, including control, conflict and cooperation. The result is that control of and access to resources is becoming more distributed. Some organizations are seeking to hold on to past positions of resource power and methods that worked in an era of abundance by bringing control over resources closer, while others are building distributed networks that work together to create the future. While the fundamental resource issues the world faces are too great for any organization to tackle alone, few of these responses are currently coordinated sufficiently to realise the long-term solutions needed – and some organizations are still avoiding the issues. However, progress towards coordination is being made and more is to be hoped for. For any organization, it is critical to understand how your resource strategies and tactics contribute to the bigger picture – and whether they are focused on holding on to the past or creating the future.
Control and Protect
Controlling food supply: The sharp rise in food prices in 2007–08, followed by a period of higher and more volatile prices, was a wakeup call for many countries about their vulnerability to food insecurity. Some responded by seek opportunities to secure food supplies overseas through "land grabbing." Governments in the Gulf States such as Bahrain, Qatar, Kuwait, Saudi Arabia and in Asian countries such as China, India, South Korea and Japan have all been investing, particularly in Africa, to secure agriculture land. However it is not just governments. Private equity funds, university endowments, pension funds and hedge funds are also capitalizing on a potential future lack of natural resources by investing in foreign land and agriculture businesses. (Source: Proceedings of the National Academy of Sciences (PNAS) , Zukunftsstiftung Entwicklungshilfe)
Protecting innovation: The need to increasingly control and protect is evident through a new WIPO report showing that while the global economy continued to underperform, intellectual property (IP) filings worldwide increased strongly in 2011. It also revealed that China's patent office became the largest in the world measured by the number of patent applications received. For the first time in 2011, the total number of patent applications filed worldwide exceeded the 2 million mark.
Conflict
The race for the Artic: As the Arctic ice melts new opportunities arise, from shorter shipping lanes to newly accessible oil and gas reserves. According to the United States Geological Survey about 13% of undiscovered oil and 30% of undiscovered gas reserves are in the Arctic. The five Arctic littoral countries, Russia, the United States, Canada, Denmark and Norway all want part of the prize. They are not alone. China, Japan and South Korea also want a share in the Arctic's resources, despite being non-Arctic states. Other non-Arctic players, e.g. India and the European Union, are holding tight to the argument that Arctic is a common zone that should be accessible to every state interested for research, exploration and transport purposes. While it hard to imagine the U.S., Canada, Norway and Denmark physically fighting over the Arctic, with all the potential players there is a risk of conflict. (Source: PS public Service Europe).
When water issues escalate: Last year tensions rose over two proposed dams in central Asia: Kambarata-1 in Kyrgyzstan and the Rogun Dam in Tajikistan. These dams could affect water supplies in the downstream nations of Uzbekistan, Turkmenistan, and Kazakhstan. Uzbekistan's president, Islam Karimov, says the dams could cause "not just serious confrontation, but even wars." Another looming conflict could erupt between Uganda and Kenya after Kenyan Pokot herdsmen crossed the border seeking water and pasture. In October 2012, Uganda sent 5,000 soldiers to control violence among pastoralists from the two countries. (Source: Worldwater)
Cooperation
Cooperation across borders: Cooperation between Mexico and the U.S. has led to increased access to drinking water, sewerage systems and sanitation services in the Mexican border area. To date both governments have supported the implementation of 51 drinking water supply and wastewater infrastructure projects in Mexico. A total of US$464 million has been invested (half from the US Border Environment Infrastructure Fund (BEIF) and half million from Mexican programs). The investments have led to an increased access to drinking water (from 91% to 96%), sewerage systems (from 76% to 88%) and sanitation services (from 72% to 82%) in the period 2000-2010. In the same period, the wastewater treatment capacity in the area increased to 10.6 cubic meters per second. (Source: UN)
Reusing municipal wastewater: A couple of years ago multinational Dow Chemical, operating in the small water stressed town Terneuzen in the Netherlands, began cooperating with the town municipality to treat and reuse water. Previously, Dow had used desalinated water for its steam generation and industrial processes. Today it uses 7500 cubic meters of treated wastewater from the community of Terneuzen. The wastewater is treated by using osmosis and sent directly to the Dow plant. It is less expensive for all parties involved and requires 65% less energy to demineralize than saltwater. The town municipality believes this kind of partnership can easily be replicated and is working with the Zeeland Water Board and the Dutch central government to offer it as a solution to water-scarce regions. (Source: IBM, Water)
In June: Look out for trends in action on the digital economy!