April 2014: Global mass markets are giving way to millions of niche markets of consumers demanding local customization if not personalization. As production and consumption become more distributed, hubs will characterize the next wave of "globalization." They will specialize to support the needs of growing regional trade, emerging city states, on-line communities of choice, and the next generation of flexible workers and entrepreneurs.
Think of hubs as vibrant centers of knowledge, art, science, politics, technology, religion, skills, exploration, and economic growth that lead the development of the hinterland around them. Around for millennia, from Ancient Egypt to Renaissance Italy, they were typically few and far between. Over recent centuries, transport, communications and scientific advances have allowed companies and governments to harness and distribute the learning, talent, and advances from these hubs much more broadly. Yet the need for scale has meant that many hubs have operated at a global or national level.
Now the redistribution of production and consumption means that many more hubs are springing up, within regions, cities and communities. It's an increasingly multipolar world in terms of economic growth and geopolitical power, with the rise of the BRICS and beyond. Separatist movements are trying to create their own hubs based on ethnicity, culture and religion, from Spain to India. Multiple megacities are growing in many countries – some even aspiring to be city-states.R&D hubs are sprouting globally, moving closer to the needs of different markets. Silicon Valley has many new rivals worldwide for being the preeminent hub of internet technology. Entrepreneurs have their own hubs to work from while communities of choice are building hubs virtually.
This is a time when the tensions of globalization and fragmentation are being felt. But it's not globalization in reverse. Underpinning the rise of these hubs are global knowledge networks and the increasing mobility around the world of assets, people and capital. The challenge for businesses, governments and communities is developing new business and governance models based on hubonomics™, that leverage global assets and hub strengths to deliver local value.
Hubonomics in an urbanized world
Cities around the word just keep growing. Half of the world's population lives in cities today, a figure that the World Health Organization estimates will increase to 70% by 2050. Our urban areas are the economic and knowledge powerhouses that are playing an increasing role in global economic development.
Long ago, Alfred Marshall proposed that firms and workers of a particular industry or a set of industries locate near each other because they benefit from information spillovers or lower transaction costs. In the world of hubonomics, urban hubs have become playgrounds where clusters of specialized talent, skill and knowledge congregate, attracting more and more people and businesses as they reach critical mass. Think technology in Silicon Valley or finance in New York, Singapore and London. As this process develops, different but related industries can combine their knowhow contributing to richer economic development in urban areas.
In Action!
City-states: In1970, there were just two megacities (Tokyo and New York) in the world with 10 million or more inhabitants. Today's 23 megacities account for 9.9% of the world's urban population (359.4 million). Asia has the largest number of megacities with thirteen in 2011, followed by Latin America with four and then by Africa, Europe and Northern America, with two each. By 2025, the number of megacities is expected to reach 37, with an additional nine in Asia, four in Latin America, and one each in Africa, Europe and North America (Source: UN). The rise in urbanization will help drive economic growth and open up new consumer markets in developing economies with some megacities becoming markets comparable in size to small (or even not so small) nations. Already some forward-thinking businesses are segmenting markets by city rather than region, while the politicians running megacities have increasing national (and even international) influence. The question is whether cities become more important than states in future?
Urban knowledge hubs: The world is urbanizing and so is knowledge. Science parks in suburban areas have, since the 1970s and 1980s, been the most visible symbols of the "knowledge economy." A global concept, today there are 123 university-based science parks in the US, 46 in the UK and more than 200 in Asia. Now knowledge hubs are developing inside cities, often in the guise of science or technology parks, or creative and design districts. Often worn-out industrial sites and districts are being regenerated through such hubs or "creative factories." Well-known examples of urban knowledge hubs include the Cambridge Science Park, Barcelona's @22 district or Helsinki's Arabianranta area. How can your company help boost and tap into urban knowledge hubs? (Source: The Urbane Tribune: Urban Hotspots 2.0)
Look Out For…
Cities as wealth generators: Across the globe cities are increasingly important generators of growth – and it is the emerging market cities that will win the race. McKinsey Quarterly's City 600 index suggests that developed market cities will create 17% of global GDP growth in 2025, down from 36% in 2010 while emerging market cities will create 47%, up from 18% in 2010. Overall, cities could inject up to US$ 30 trillion into the global economy by 2025. Despite these forecasts, few companies focus on the growth potential of cities. According to a survey by McKinsey Quarterly, fewer than one in five executives makes location decisions at a city level rather than a country level (Source: McKinsey Quarterly). If your company is still focusing on a country level strategy it may be time to explore the potential of cities.
Emerging market cities as the new company hub:Today just 20 major cities are home to more than one-third of the world's large companies. Of these 20 cities only five are in rapidly developing regions. Tokyo is by far the leading hub, with more than 600 large companies. Only nine other cities around the world are home to 100 or more of such companies' head offices. However in 2025 a projected 229 Global 500 companies will be based in emerging market cities, up from 24 in 2000. (Source: McKinsey Global Institute)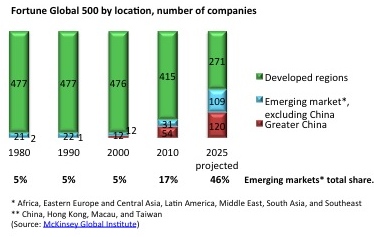 The rise of specialized and distributed hubs
Today an increasing number of businesses, government and communities understand the importance of developing hubs to attract the people, knowledge and companies that will drive social and economic development. Hubs are based on specialization, in many different areas from trading routes and types of trade to different parts of the value chain, from manufacturing to marketing. Hubs are also designed to boost innovation and creativity, essential in a world where change is constant and often disruptive. Often, they aim to group companies that can provide related goods and services together, creating clusters that are mutually reinforcing in generating development and that are hard to replicate elsewhere without substantial investment and talent development. Successful hubs embrace a global perspective, recognizing that the dynamics of growth and the relative positioning of the hub must take into account not just local factors but shifts in worldwide resource availability and supply chains, market demands, and changing consumer behaviors. Above all, hubs must be dynamic, constantly extending networks and knowledge to stay at the forefront of their chosen specialization.
In Action!
Towards more regional trade hubs: Some commentators are suggesting that the global trade to GDP growth relationshipis seeing a structural change from the 2:1 ratio that has held in the last 30 years towards a lower multiplier. Others attribute the last two years' "anomalies," where trade grew at close to or less than economic output, to the effects of the global recession, which also drove up trade barriers to protect national interests and domestic industries. However, trends suggest that a structural shift towards more regional trade patterns may be under way including those redistributing the industrial value chain, e.g. reshoring, production close to markets. In addition, intra-regional investment flows and trade between high growth markets have been increasing, reflecting the shift in economic power from West to East and North to South. New regional trading blocs are being proposed such as the U.S.-Asia Trans-Pacific Partnership. Removal of barriers to regional cross-border trade may also help address issues such as food security in Africa, e.g., Mozambique's policy of freely allowing imports and exports of maize has helped stabilized prices in the capital Maputo versus other capital cities in the region. Expect trade to move towards more regional hubs in future. (Sources: Financial Times,World Bank and White House).
Creativity hubs – co-working spaces: From Feb 1, 2012 to Feb 1 2013, 4.5 new co-working spaces were opened up each workday. The use of co-working spaces, such as Rocketspace in San Francisco, is a hot trend in an era where technology is eliminating the need to work in a set place at a set time. According to deskmag over 110,000 people currently work in one of the nearly 2,500 co-working spaces available globally, which have been growing 83% annually, serving 117% more members. Compared to traditional office spaces co-working typically offers a collaborative, inspiring and stimulating environment that fosters innovation. In recent research, 71% of people using them felt more creative, 62% believed their work improved significantly, 90% felt more confident when co-working and 70% said that they feel healthier than in a traditional office setting. (Source: Forbes).
Look Out For…
Innovation hubs: Want to boost innovation? Then it's probably a good idea, according Professor Michael Mol, Warwick Business School, and Associate Professor Olivier Bertrand, SKEMA Business School, to learn from IBM who built research labs throughout the world, e.g. Switzerland, Japan, Israel, UK, China and India, from which R&D is outsourced to research institutes. Their research shows that while outsourcing at home is fine to fill short-term gaps, it is much better to outsource abroad if companies really want to innovate since knowledge innovation suppliers in the company's home country often are too similar. Professor Mol says "From a managerial perspective, it is important to understand how outsourcing R&D contributes to innovation outcomes, and when offshore outsourcing is a viable strategy." (Source: WBS)
Manufacturing hubs: The word manufacturing is more often than not associated with cheap labor in Asia and other part of the developing world. However as we have mentioned in earlier briefs the developed world wants manufacturing back. The U.S., in particular, is working very hard to bring back manufacturing to the country, a process that is heavily supported by the government. There are already hubs in Youngstown, Ohio, and Raleigh, N.C established by government money and in February 2014, President Obama launched an additional federal US$70 million initiative to help the Chicago and Detroit areas create manufacturing innovation hubs. In addition to Chicago and Detroit, the President has four more hubs in pipeline. The aim: To make sure the next revolution in manufacturing is an American revolution. (Sources: Advanced Manufacturing Portal, Chicago Tribune)
Tapping into the world of hubonomics
Hubonomics extends the field of economics, looking beyond supply and demand to related areas including behavioral economics, network theory, game theory, systems theory and chaos theory, as well as geopolitical relationships, the power of technology, and the psychology of organizations, societies and individuals. It's complicated and requires understanding and managing an increasing array of relationships, networks, stakeholders/partners, and global dynamics. While hubs provide benefits locally and regionally, their success is measured at a worldwide level. The challenge for businesses, governments and communities is to develop new ways to tap into the power of specialized, clustered knowledge and talent to position themselves for success and long-term advantage. In this section we highlight examples of companies, cities and governments that are tapping the power of hubs – recognizing that the very nature of hubs means that building partnerships and networks is at the core of activity. One organization simply cannot build a hub alone. Who will your organization partner with?
Examples:
The African tech hub: Silicon Valley is no longer the only tech hub in the world. In Nairobi, Kenya the iHub technology center is thriving. Founded in 2010, by 2013 it had more than 10,000 members. It serves as an office for Africa's most ambitious coder and has links with companies such as Microsoft and Intel. 152 companies have already grown out of the iHub office and as the tech giants' interest in the African market grows, iHub has become the place where executives such as Yahoo CEO Marissa Mayer and Google chairman Eric Schmidt decamp, declaim, and debrief when visiting the region. (Source: Fast Company)
Ireland – the European country hub: Ireland has succeeded in doing what many countries wish they could, namely developing the country into a hub for the European market. By targeted efforts the country has attracted substantial foreign investment, building Ireland into an attractive digital and biotech hub used by many big firms to access the 500 million-strong European consumer market. Since 2006, the Government Strategy for Science, Technology and Innovation has invested €8 billion in research and development initiatives showing Ireland's dedication to grow R&D. While the country's competitive corporate tax rate is clearly a factor in its success, other assets including a deep talent pool and national dedication to investing in technology should not be underestimated. (Source: VentureBeat)
Newcastle Science Central – an innovation hub:Newcastle-upon-Tyne (UK) was designated as one of six UK Science Cities in 2005. The city's ambition is to become a significant "city of knowledge" in the UK. Among other things, Newcastle is developing a large "science quarter" at a former brewery site in the city center. To realize this ambition, the City Council works together with the Newcastle University and ONE Northeast, the regional development company for the Northeast of England. In December 2014 Newcastle University announced it would invest £50m in the next phase of the city's Science Central development to create a "living lab" where new technologies and systems can be tested. Science Central aims to bring together leading international researchers, expert practitioners and cutting edge equipment to tackle some of the most important global urban sustainability challenges facing society today. (Source: Newcastle University)
The North American hub for thought leadership and experimentation: Cisco has picked Toronto to be one of four global innovation hubs for developing the "internet of everything." It is a US$ 100 million investment. The new complex is meant to serve as a hub for startup companies and other innovators involved in developing new applications for smart technology. The environment is also designed for collaboration with major companies to share knowledge. According to Cisco Canada vice-president of marketing, Mark Collins, the environment is designed so "… they'll [the major companies] be able to come into this environment with ideas and other partners and collaborate with us, test out their ideas, experiment with us and ultimately develop the solutions of tomorrow." The center is schedule for completion in spring 2015. (Source: CBC News)
Virtual, niche hubs for knowledge: Virtual hubs are getting increasingly popular. They are places to share and access specific knowledge across borders as well as locally. One is SumZero, the world's largest community of investment professionals from hedge funds, mutual funds, and private equity funds. Here, more than 9,000 pre-screened professionals collaborate on a fully transparent platform. Another is the UK public sector's professional social network Knowledge Hub which helps people in local government connect and share online in a secure environment.
3D Hubs: 3D Hubs is a manufacturing network started in Europe, which distributes products to communities around the world. It is like Facebook, just for products. The idea of the company is to network 3D printers together through a web interface and get users to register their printer availability on a map so users can find the nearest one. Then people can select a hub near to where they want to send an object, and ask a local Hubber to 3D print and deliver it. Does it have the potential to transform the global manufacturing economy? That's what Dutch founders Bram de Zwart and Brian Garret hope. (Source: 3D Focus)
In May: Look out for trends in action on Preparing for a new generation of learners